Thank you!
For your interest in my on going build, for offering a great community of like minded humans, and any support or opinions on how I can make this better OR if I can help you in any way please do not hesitate to ask!!
Here she is!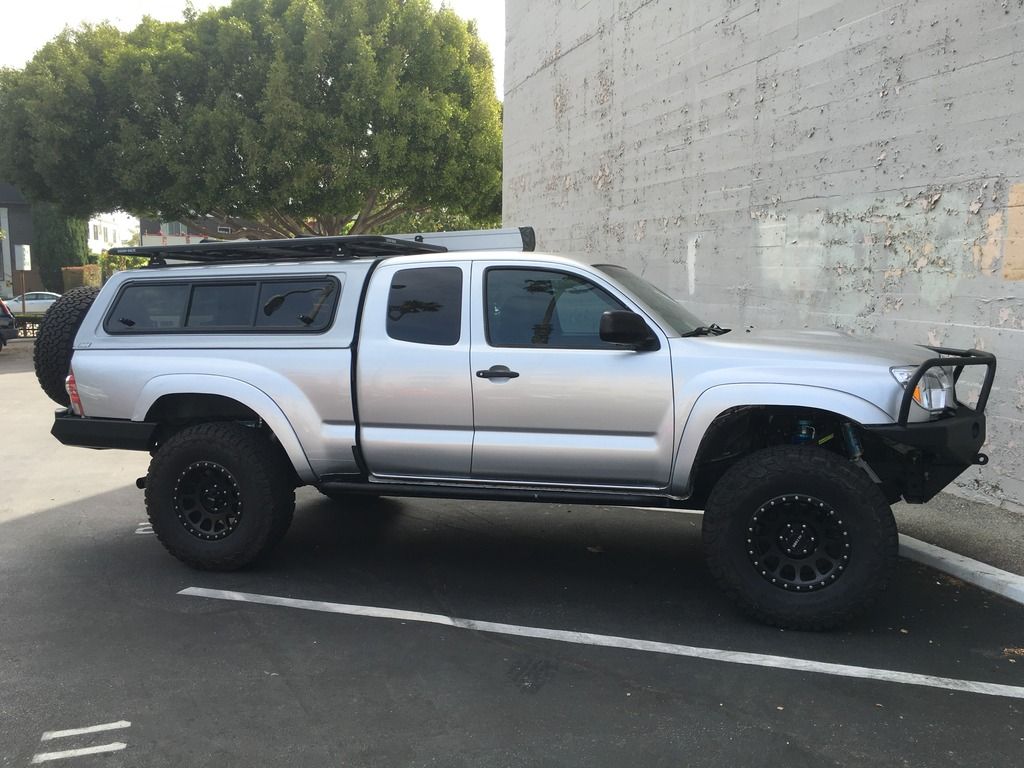 What had happened was:
This was a build that I was not "planning" on. At the time this project presented itself I had a pretty sorted out 2001 4-runner named Nelly that I loved.
But when a close friend told me that he was going to send this 2008 Tacoma to the junk yard I could not resist the temptation.
You see my friend that sold me this truck had blown the motor up when driving home one summer day from Las Vegas to Los Angeles. The belt went and well, you can assume the rest.
When the truck was towed to my house it had no hart and what was left of the hart was in the bed of the truck collecting rust. Time to build a...
The Plan:
I wanted a reliable truck that cold take me off the grid. Could support me in my field for work (Camera Ops), surfing missions, and occasional pit support for friends who race in Baja and here in the states.
I also wanted the vehicle to perform well at speed with all of the "Overlanding" creature comforts.
You see I have had and built a few pre-runners in my day. I wanted the performance of a pre-runner without fiberglas fenders. It appears that a lot of humans in this space now want the same.
After a quick call to the Brothers Brenthel and TJ @ Baja Kits the plan was set in motion.
The only thing that is bothering me about this platform is the lack of 4 wheel drive.. So That is something that I plan on tackling with the help of Wyatt of Rock Solid Toys. The transfer case is built so I am slowly buying and putting together all of the parts that I will need for the full transformation.
ARMOR:
PelferyBilt Front Aluminum bumper with full upper hoops, 20 inch LED cut out and Fog Light cut outs, powered coated
PelfreyBilt Tacoma High Clearance rear bumper, Gate with Rotopax mounts, High lift mouth, and fold down table powder coated
PelfreyBilt IFS skid
PelfreyBilt Gas Tank Skid
PelfreyBilt Mid Skid
PelfreyBilt Rear Skid
*All Aluminum
PelfreyBilt weld on Rock sliders with kick out
FRONT SUSPENSION:
Baja Kits +2 kit
Baja Kits spindle gusset
Baja Kits bypass and double sheer shock mount
King 2.5 Coil over with remote res
King 2.5 triple bypass
REAR SUSPENSION:
Baja Kits Rear Spring under kit
Deaver Custom made spring under pack for the 1000 lbs of extra weight
King OE Replacment 2.5 shock with remote res.
King 2.0 4" travel hydraulic bump stop
Gusseted rear axle housing and 4.88 gears E-locked By; DC Shock services
1.25 spider tracks spacers
OVERLAND GEAR:
Truck Vautl 7' system with locking drawers
ARE custom made shell, dual sliding wind doors, internal support for extra roof loads
Rhino Rack Pioneer Platform, custom setup for access cab front
Rhino Rack's Foxwing Awning
ARB 50qt fridge
RECOVERY:
WARN 9.5CTI
WARN Spydura Synthetic Rope
Factor 55 Hawse Fairlead 1.0
Factor 55 Shackle mount
Snatch block, and tow strap, chains
WHEELS / TIRES:
BFG KO2 35x12.5 R17
17 inch NV Method Race wheels with Fux bead lock. (had Bead locks on the 4-runner and they leaked a LOT)
LIGHTING:
20" Ridgid SR2 Combo light in front bumper
2x Ridgid amber lights in from bumper
1 4" rear Ridgid singe row amber
2 Ridgid back up lights
6 Ridgid rock lights, 1 on each wheel, 1 under the hood, and 1 under the awning
3x R-46 behind grill. 1 spot two flood
MISC:
Overland bound member 3907
4x4 "swap" coming soon!
Rock Solid Toys built manual shifting transfer case
4.88 front differential
VIAIR Constant Duty onboard air system with 2.5 Gallon tank
Dual batterie setup (custom built)
Fridge plug in access cab and shell so it can be moved around
Switch Pro 8 switch module. LOVE IT!
Coning soon:
HAM radio and Amateur license (March)
Garmin GPS hard mounted
Solar panel
Maxtrax
4x4 conversion
Lots of tools, tools for tools...
Last edited: